APPLICATION MATERIALS.

Research Experiences for Undergraduates
Computational Algebraic Geometry, Combinatorics and Number Theory
Clemson University
Clemson South Carolina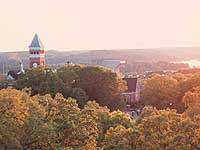 IN ORDER TO QUALIFY FOR THIS PROGRAM, YOU MUST BE A U.S. CITIZEN OR PERMANENT RESIDENT AND YOU MUST REMAIN ENROLLED AS AN UNDERGRADUATE STUDENT AT YOUR HOME INSTITUTION THROUGHOUT THE REU PROGRAM.


Please complete our online application.
Application review will begin on Feb. 15 and will continue until all positions are filled.